Smart Design Software
Enjoy making albums with Album Design
The Most Powerful Software
Beautiful albums created by the amazing photographers using Album Design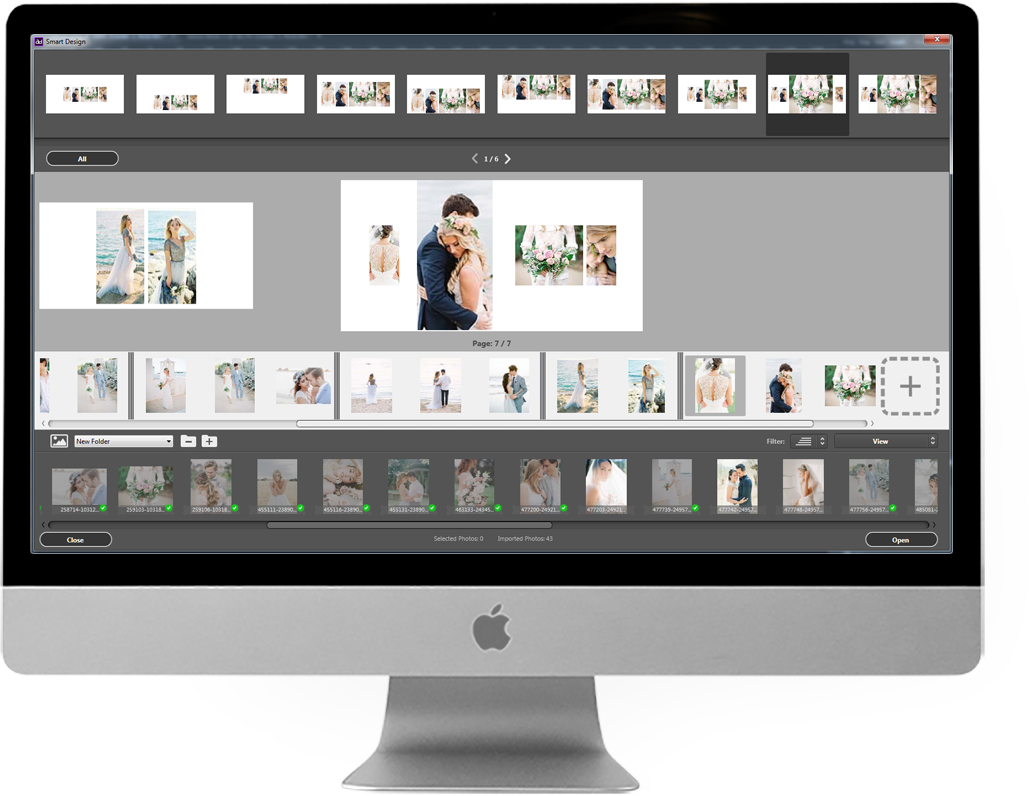 Must-have album builder for the busy photographer.
We understand album design can be a burden. We've made it intuitive, quick, and simple.



Get the Tools for the
True Professional
Design better, do more with Album Design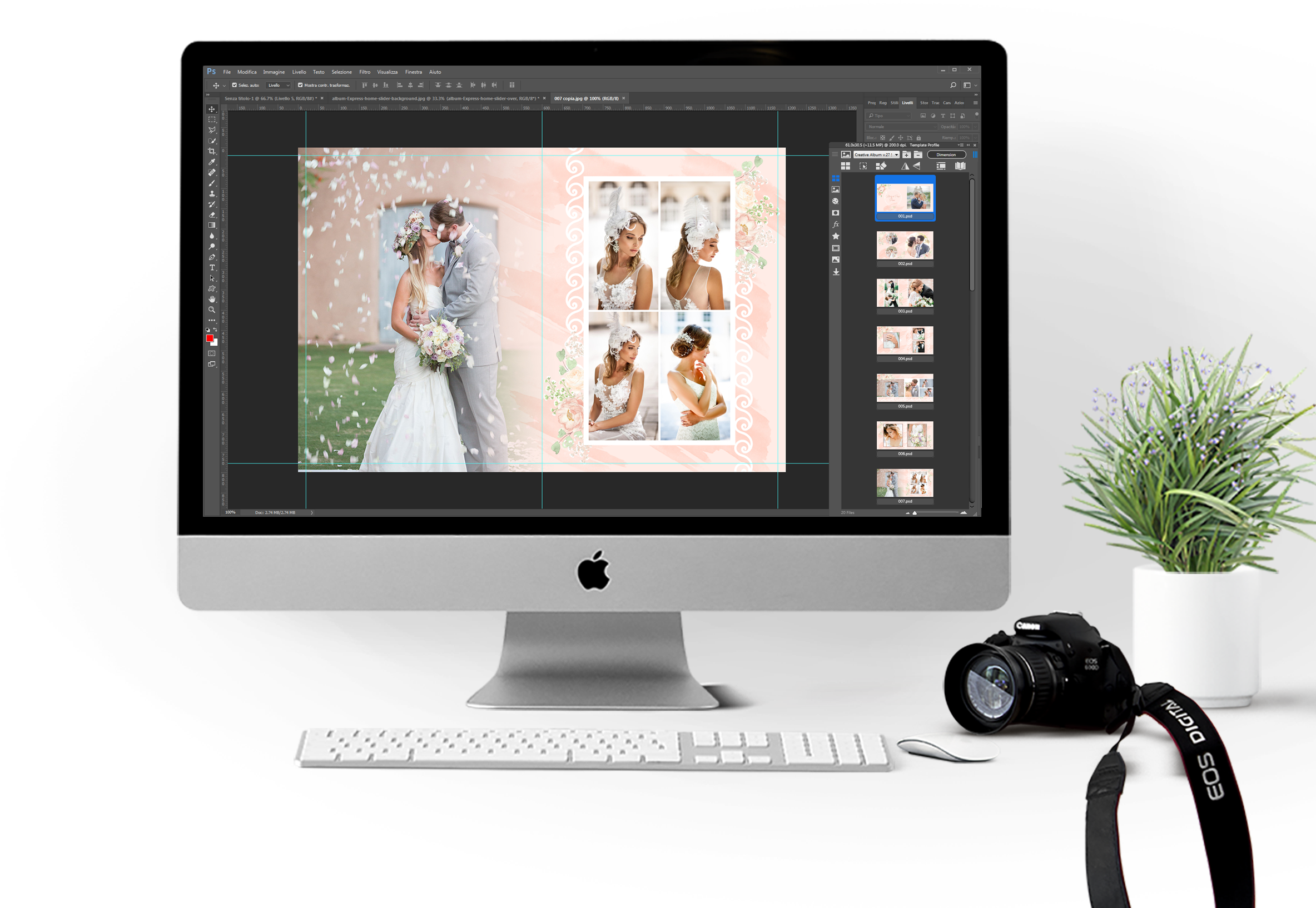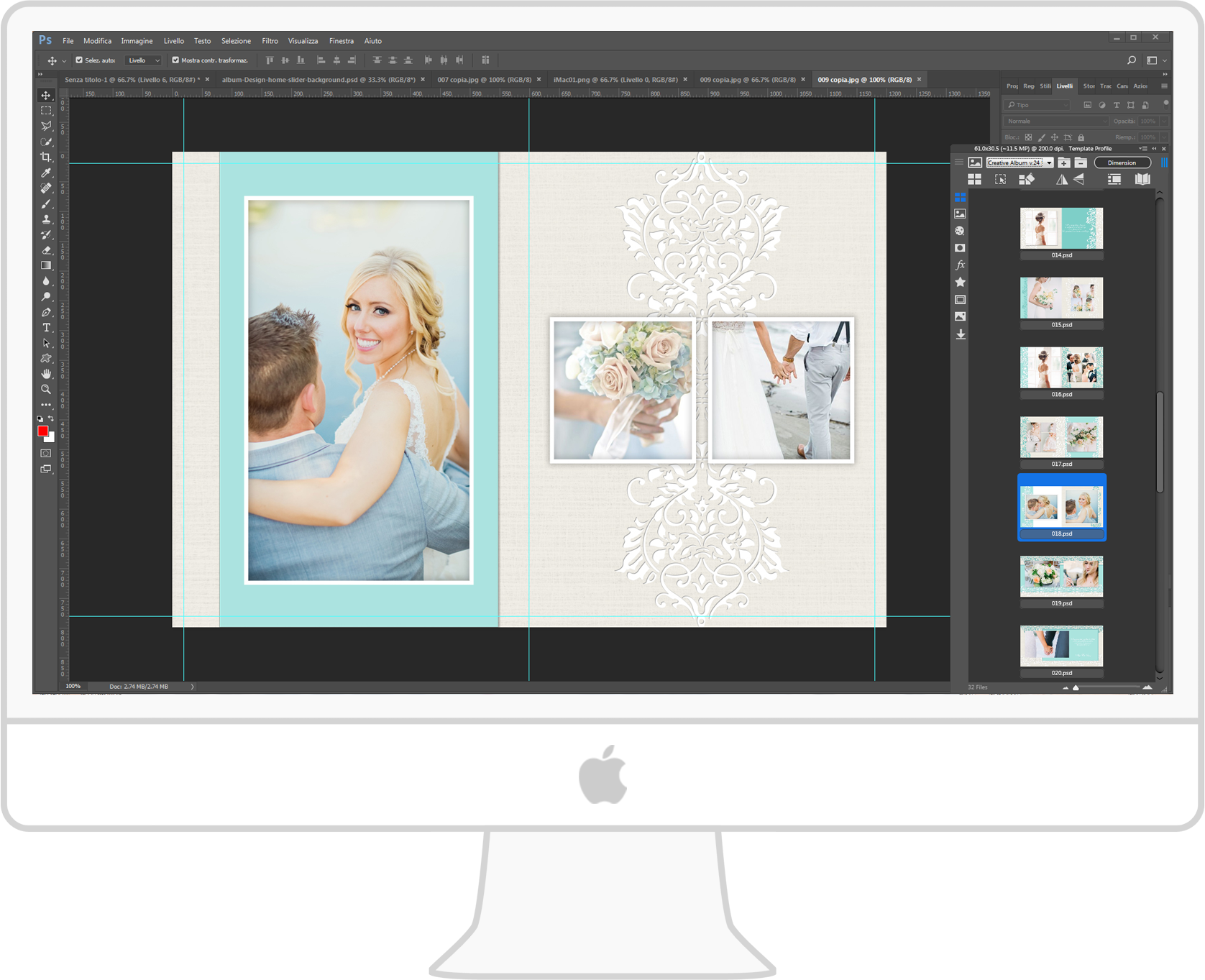 The easiest way to design your albums.
Album Design® puts thousands of professionally-designed templates at your fingertips, while giving you full creative freedom. Select your images, drag and drop, and immediately see a design. It's that simple. With beautiful layouts to choose from, easy customization, and time-saving technologies, there is no better way to design your album.
Built-in album configurations and flexibility to choose or create album sizes.
Automatic creation of albums in multiple styles.
All image formats are supported: jpeg, tiff, png, psd, RAW, CR2, DNG, ARW, NEF
Over 14,000 layouts and over 1500 templates make the page composition faster.
The built-in decorations such as backgrounds, frames / borders, masks, and clipart make the page composition attractive.
Photo editing in Photoshop directly
1600 Lightroom effects + 280 effects like Flow, Color Paste, Lights, Lens, Black and White, Color, Define, Painting.
A huge graphic collection is available, expandable with what you can find on our website or in the DeaStock browser.
Output to JPG, PDF, TIF, PNG, BMP, PSD * ePub, HTML, Facebook,
With the new function Smart Project, drop your images onto the Timeline and see your spreads come to life with each click. It feels magical. Album Design does to design what digital did to photography, a total revolution, there is nothing like it.
The Design we made it intuitive, quick, and simple.
Choose to show your top templates more often by "favoriting" them, delete others by opting to "reject".
Create a group of photos for the page and magically you'll see the appropriate templates.
To create a new order of the photos with the new templates move the photos from one group to another one.
t's a really easy and fast to design an album using the new functionality Smart Project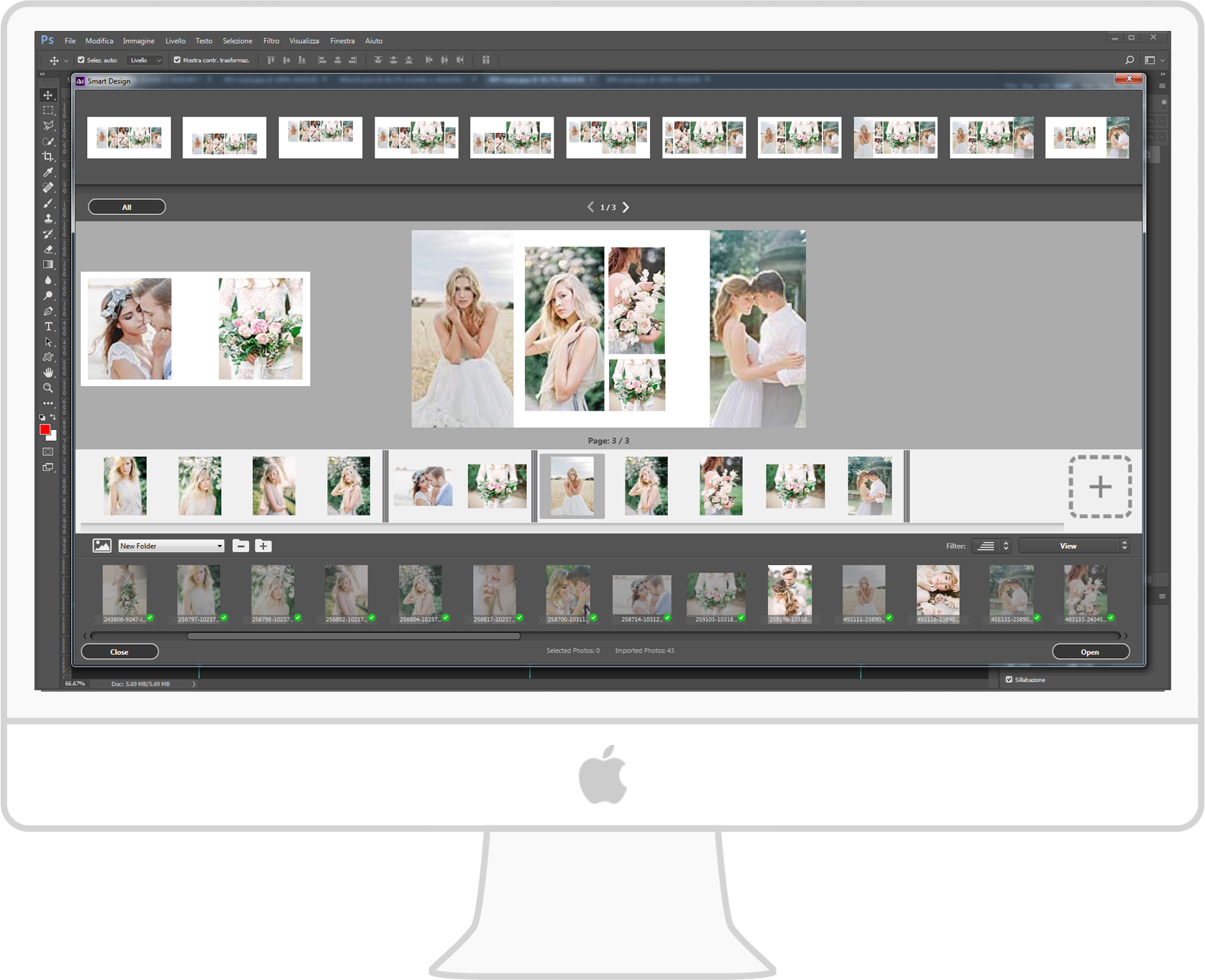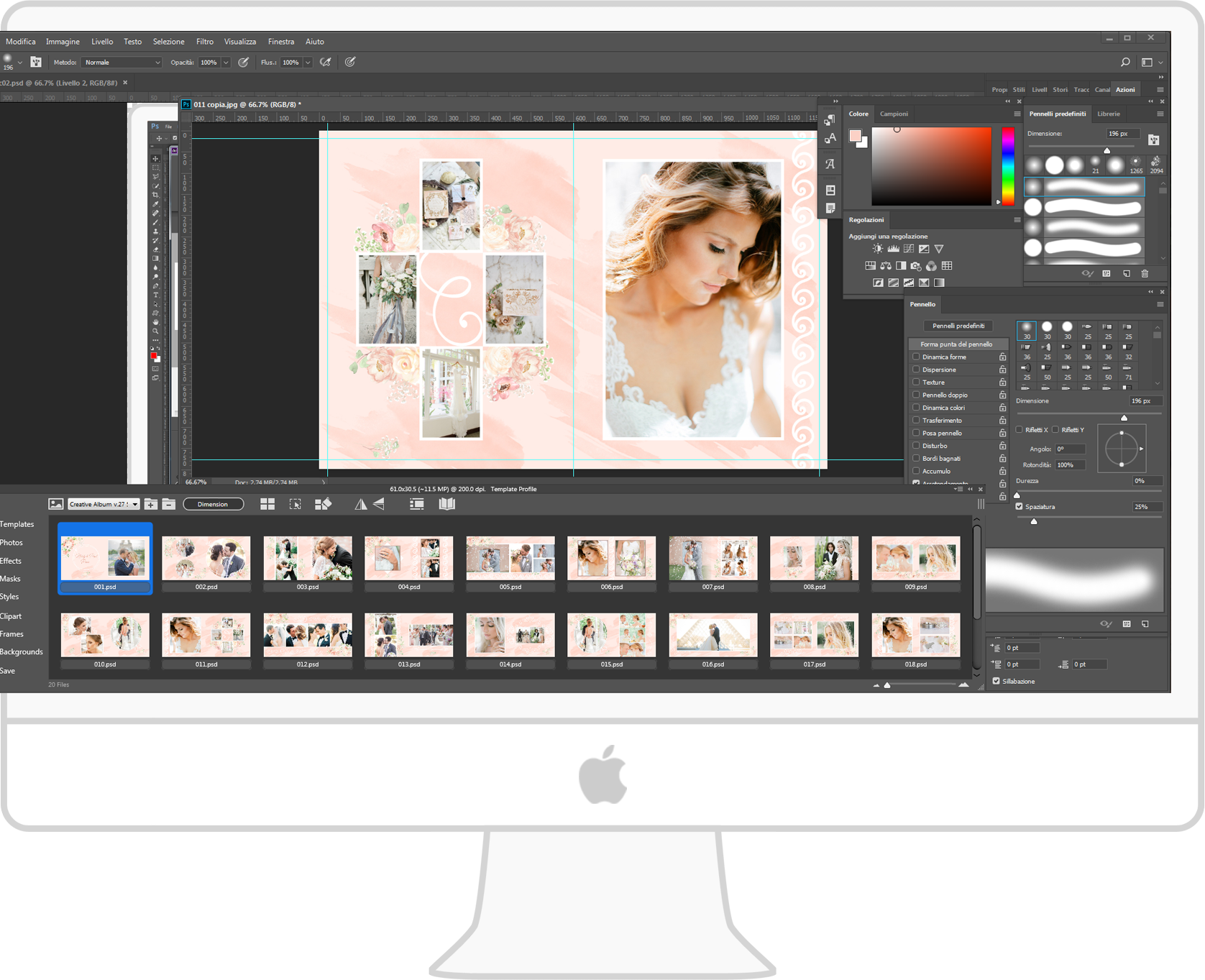 Correct and enhance images with Curve, Black and White, White Balance, as well as other non-destructive adjustments that preview in an instant and can be changed at any time. Photoshop offers advanced features so you have full control to get the best out of any image.
Eraser, remove unwanted area of photo without cutting tool.
Simple brush eraser with flexible brush size, feather and tolerance.
Chroma tool to remove chroma green screen and blu screen.
Partial black and white, retain colors of Important parts of the photo.
Clone Stamp, remove all faults, wrinkles, blemishes and marks from the face.
Correction tool to manage colors in photo.
Tool to lighten Eyes and Teeth
Edit with Photoshop, direct access to Photoshop for photo editing.
Proofing and Share your Album
Slideshow Album now a part of Album Design. Make slideshows of your album projects. Enter your music and publish it in ePub or in HTML for free on our cloud or on your FTP. You can make your proofing for free through the share on Facebook, and request the approval of your customers.
Export PDF Preview, for approval copy exporting for offline album viewing and commenting.
Free online Proofing, publishing on Facebook for online album approval.
Export HTML Multimedia Album on Album Design Free Cloud for easy access across the devices and globe.
Export HTML Multimedia Album on your Web Site for easy access across the devices and globe.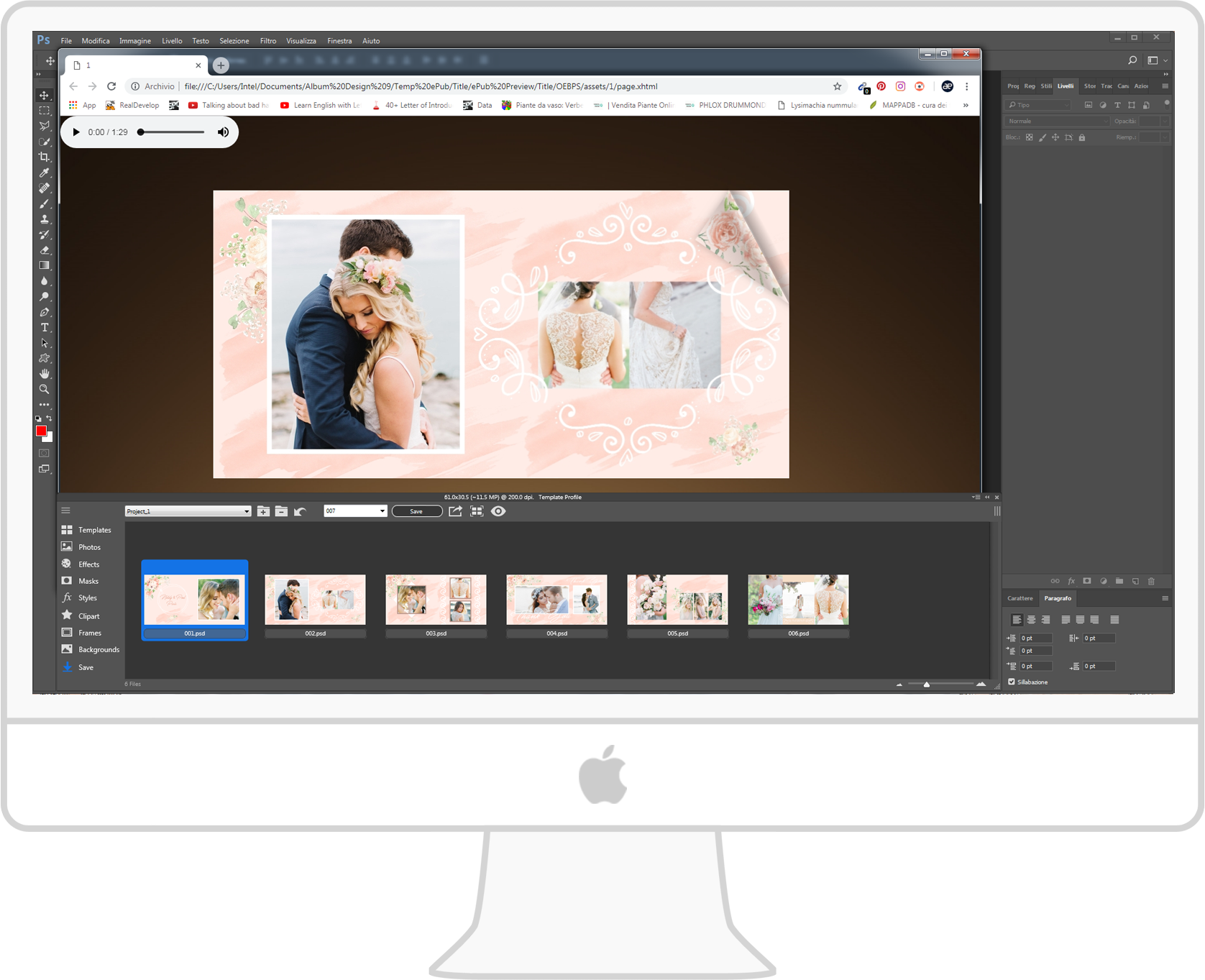 Fabio Ingrosso

Fotografo matrimonialista

"I want to congratulate the SPC staff for the realization of Album Express. I bought it immediately because I imagined the product as it could work high levels..."
‎Gaetano Vatieri‎

Professional Photographer

"Guys I use it and it is an exceptional software"
Paolo Esposito

Professional Portrait Photography

"With Album Express I can easily design a full album in 5 minutes. Now I don't dread album design anymore"
Robert Tudor

Altered Images Photography

"Assistance from Rosanna and the team has been first class. I would love them as part of their marketing to offer tutorials or on-line seminars."
Syed Faisal Raza

"The software & the software company employee are so friendly & so professional especially Rosanna is doing so wonderful job please keep her happy!!!"
Corrado Caccamo

Professional photographer

"Hi I am a professional and I can guarantee you that SPC are unique both the Software, which their excellent availability with the timeliness to solve any situation"
Michele Sabella

Certified photographer at Google Maps

"Excellent and useful tool that helps and simplifies my work as a professional wedding photographer."